A Jumpin Good Time At A Sky Zone Trampoline Park Birthday Party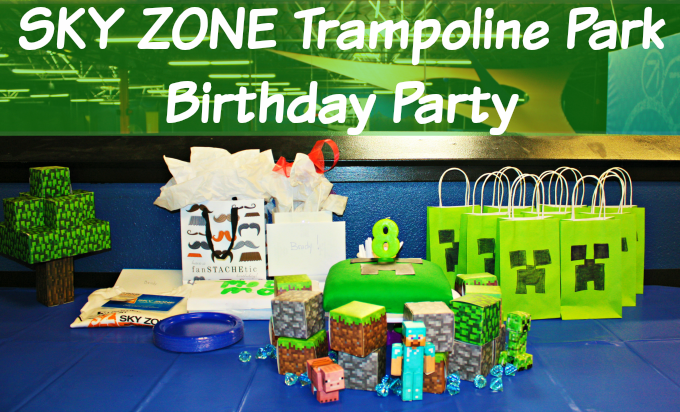 Trampolines, as far as the eye can see...
Truth be told there isn't much I wouldn't do to make my kids happy, I mean that's what all moms do right? When given the opportunity by USFamilyGuide and Sky Zone Indoor Trampoline Parks to give my kid the best 8th birthday party around - I jumped (pun intended) at the opportunity, all opinions are my own. Sky Zone is the world's first indoor trampoline park and trust me, it's huge. Located in an industrial area, Sky Zone Riverside is a massive warehouse full of trampolines as far as thee eye can see. There are two dodge ball courts, a tot jump area, a basket ball court, a massive jumping area and of course, the world renowned foam brick pit. I was most impressed with how clean and organized everything was. From the tables to the floors to the trampolines themselves everything was spotless.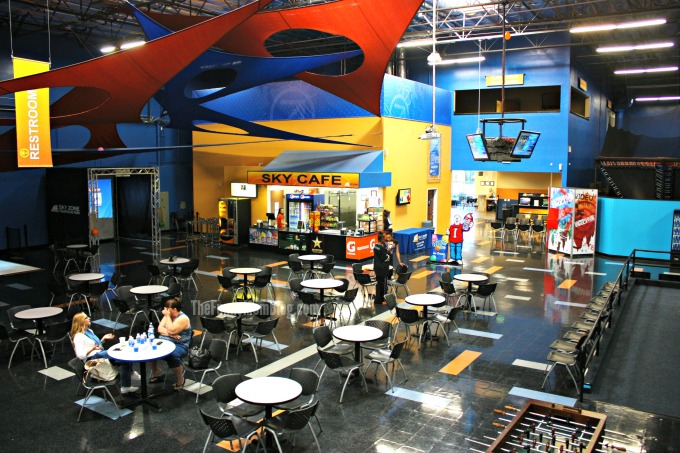 Sky Zone Riverside open area
A Birthday Party that jumps
All birthday party packages include 1 hour of jump time, 40 minutes in a private party room after the jump time, a pair of special "Skysocks" per jumper, access to all of the jump areas, birthday invitations (pick up in store only), a Sky Zone t-shirt for the birthday boy or girl, a super nice dedicated party host, party utensils, cups and plates, food and drinks and 2 1-hour return jump passes for the birthday boy or girl. Best yet, the birthday party packages start at only $199 too. Jump Around Package
Package includes up to 10 jumpers
1 hour open jump time on main court
Three 12" pan pizzas
Unlimited soft drinks during room time
Dodgeball NOT guaranteed w/package
May add on jumpers for an additional fee
Super Jump Package
Package includes up to 20 jumpers
1 hour private court time (Max court capacity varies by activity
Five 12" pan pizzas
Unlimited soft drinks during room time
May add on jumpers for an additional fee
Supreme Air Package
Package includes up to 30 jumpers
1 hour private court time (Max court capacity varies by activity)
Eight 12" pan pizzas
Unlimited soft drinks during room time
Dippin Dots Ice Cream for each jumper
2nd party host for your event
May add on jumpers for an additional fee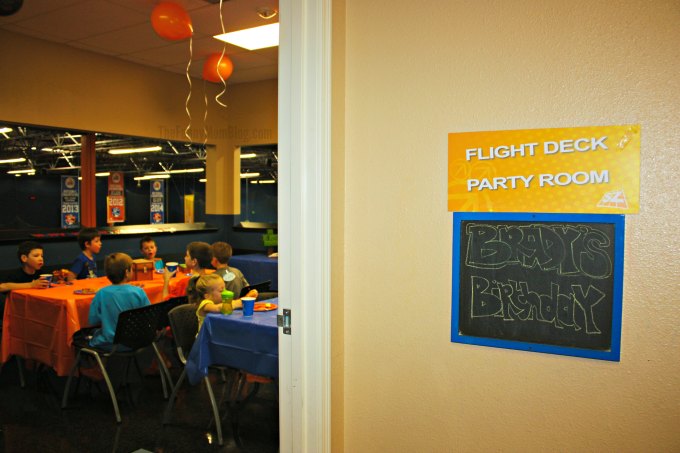 Flight Deck Party Room
A view of the whole Sky Zone!
Minecraft Obsessed
As any typical 8 year old boy, my son is obsessed with playing Minecraft and so of course he requested a Minecraft Birthday party. And of course MOJANG (the makers of Minecraft) have not released the rights to party supplies so we had to come up with our own. I may or may not have begged my son on several occasions during our supply shopping trip to change his mind because I am all about easy and convenient and trying to come up with something Minecrafty using my brain was no fun. However, since the party was hosted by Sky Zone and everything was a complete breeze all I really had to do was bring the cake and the party favors. In an attempt to impress my son I googled a few Minecraft party favor ideas and in an effort to save time I purchased Minecraft printables for $9 that saved me time and tons of energy. I had to purchase 3 bags of Jolly Ranchers to have enough blue and green candies, 1 bag of gold Hershey's chocolates, 1 bag of red vines and 2 packages of lollipop baggies to create 10 favor bags. Then we cut out the printables and stapled them together. Easy peasy fo sheezy. We drew the creeper faces on the favor bags themselves (and by "we" I mean me because he got bored after 1).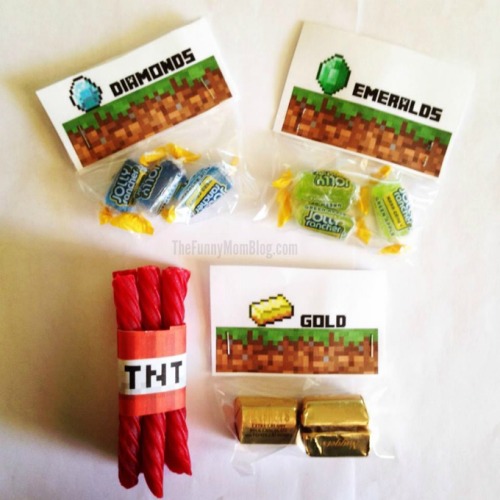 Minecraft Candy Party Favors
A Minecraft Cake too?
For the Minecraft cake I contacted a local cake decorator but she was busy so I went with plan B and plan B was me making the dang thing myself. Originally we were going to use green tinted icing, but after considering transportation I took a chance at green fondant and black sugar paper and the result was pretty great in my opinion considering I had never worked with fondant before. I don't think it tasted all that great but at least it looked good!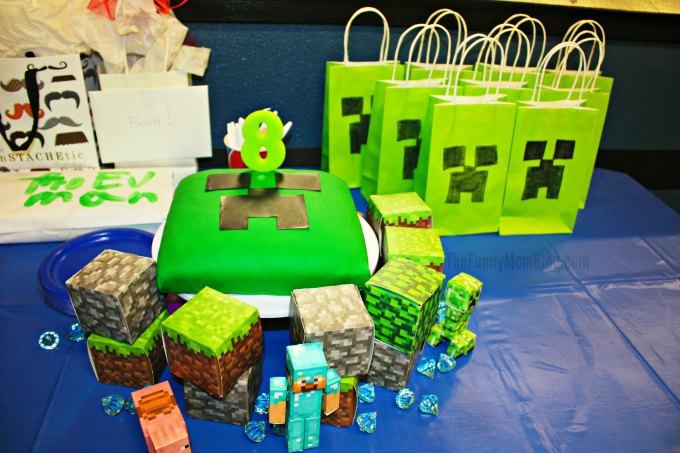 Minecraft Cake
Minecraft...Minecraft everywhere
The Minecraft decorations were papercraft, something my son received at Christmas. I also picked up a package of blue diamonds from the party store to jazz up the table a bit. The boys loved them.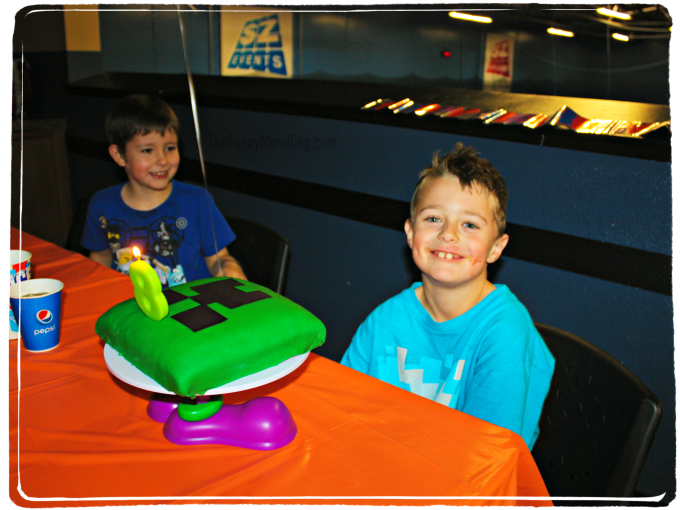 The birthday boy
Easy and Stree-free is the way for me
Typically my kids birthday parties are these elaborate affairs that cause me hours of effort and stress. Which is exactly what I didn't want this year. Planning the party at Sky Zone Riverside was one of the easiest things I've ever had to arrange. Just a simple phone call, answering a few questions and waahla! A super fun party was done and organized. And like I mentioned before, all I had to do was bring the birthday kid, the cake and the party favors. The set up, clean up, food, drinks and fun was all supplied by Sky Zone. We even had our own dedicated party host and she was super nice. Actually, everyone we met that day was very enthusiastic, nice and helpful. I can't give Sky Zone Riverside enough awesome points.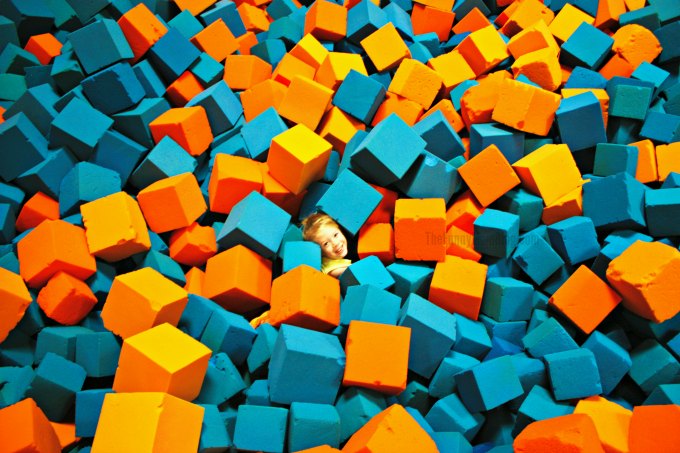 In the foam pit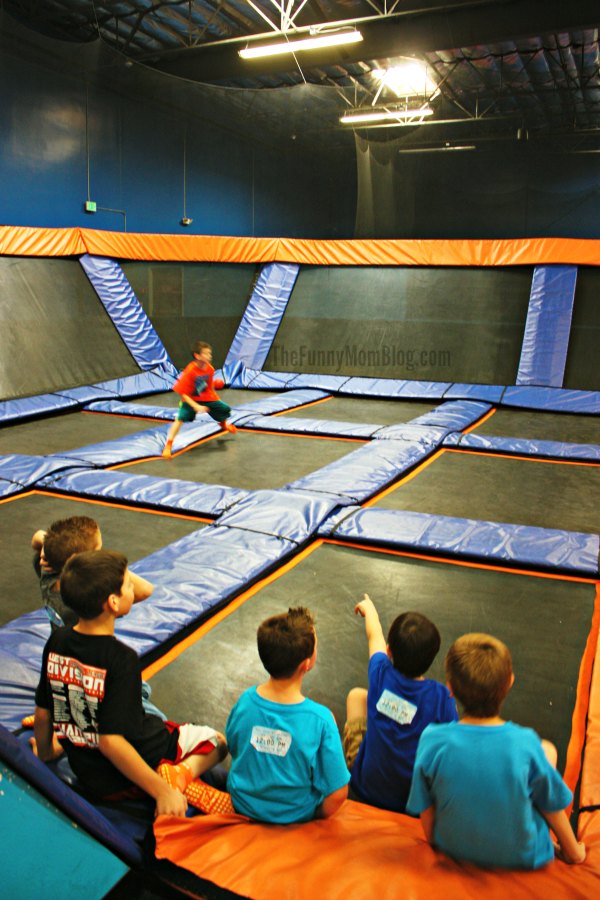 A friendly game of dodgeball
Sky Zone - a good fit for everyone
I loved that Sky Zone Trampoline Parks is age appropriate for all ages. I was worried that my little kids would be trampled and intimidated by bigger kids but I was pleasantly surprised to see that not only is Sky Zone a good fit for everyone, they welcome little kids and watch out for them too. One of my favorite moments of the birthday party was when my 2 year old son played basketball. After a little while his little arms got tired, so he handed the Sky Zone employee the ball and pointed at the hoop. She happily obliged him and played a game of 2 year old basketball (with enthusiasm nonetheless) for over 15 minutes.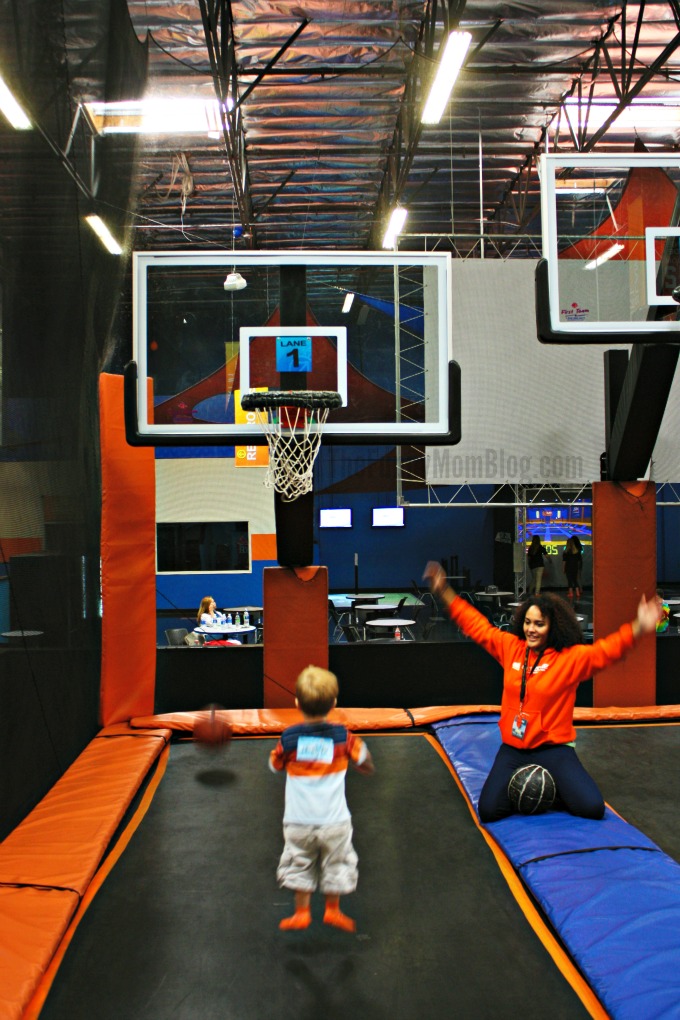 Enthusiastic basketball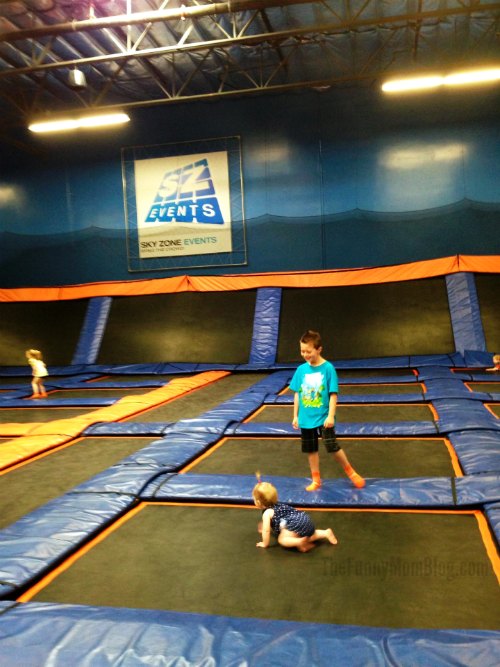 Even the baby joined in on the fun! I think the party was pretty awesome and I am so pleased we chose to have it at Sky Zone in Riverside. It was a super easy, super wonderful experience that I sincerely recommend. To book your Sky Zone Trampoline Park Birthday Party log on to the Official Sky Zone website now.