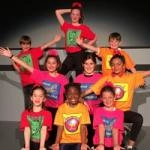 Santa Monica Playhouse
Acclaimed Weekend Fall Theatre Classes for kids and teens - live performance is back!
Santa Monica Playhouse
1211 4th Street, Santa Monica, CA 90401
Sep. 9th - Nov. 18th
"I am forever grateful for all the gifts that have been given to my daughter at the Playhouse since she was a young child; always welcoming her with open arms to this magical place where she learned confidence to speak her truth and advocate for social justice." B. Alvarez

And now, in-person performances for a live audience are back! No small parts - every child receives a role written specifically for them, highlighting their strengths, challenging them to excel in all theatre skills including performance technique, teamwork, self-confidence and communication, projection and enunciation, as well as reading and language comprehension, theatre etiquette, and a true appreciation for theatre arts. And small classes mean personal attention for every member.

Enrollment is open for the Fall session of this ever-popular workshop program, now in its 54th year, a fun experience that helps students expand their imagination as they act, sing, dance, play theatre games, improvise, work with costumes and make-up, lighting and sound, sets and props, and collaborate with professional playwrights and directors to create an awesome fully-staged original production with music, written just for them. No experience needed, but even the most advanced young actor will benefit from this workshop.

Classes meet Saturday mornings, 9:00am to 11:30am, September 9 through November 18, 2023.
Don't worry if you miss the deadline - there are great Winter and Spring Break Theatre Camps, too, and even workshops for adults!

Playhouse conservatory alumni include Kate Hudson, Zooey Deschanel, Jason Segel and Maroon 5's Mickey Madden, who calls the program "Great in so many ways!"

Santa Monica Playhouse programs are supported in part by grants from the City of Santa Monica and the Santa Monica Arts Commission, the Los Angeles County Board of Supervisors through the Los Angeles County Department of Arts and Culture, and Playhouse PALS.
Save $2 Off SNOWHITE - 4 Weeks Only!
Join us for the internationally acclaimed Rudie-DeCarlo Family Musical "SNOWHITE" - Saturdays 2pm, Sundays 12:30, October7-29 only! Gen admission $15 adults, $12.50 kids - use code USGUIDE to make your reservations via phone or email and get $2.50 off each ticket. Contact us at 1-310-394-9779 x1 or theatre@SantaMonicaPlayhouse.com